You can now send your best wishes and love for your friends and family through special Eid Mubarak Messages 2019 that you can find on this website. The Eid Mubarak Messages can be used to send out on Eid al-Fitr and Eid al-Adha that is coming up soon by the end of the 1st week of June or on Eid Adha that will come after Hajj, at the end of August.
Eid al-Fitr this year is expected to be on June 4th, 2019. However, this date can be different for some countries depending on the sighting of the moon of Shawal. Eid al-Fitr is celebrated to cherish the month of Ramadan, which is the month of blessings for Muslims all over the world. Muslims practice Islam and one of the most important pillars of Islam is fasting, which is practiced in the month of Ramadan when Muslims do not eat or drink from sunrise to sunset for the whole month. This is done for a month and Eid al-Fitr is considered a gift from Allah for the month of Ramadan. Eid al-Fitr is spent with great devotion and is one of the happiest occasions for Muslims all around the world. Muslims thank Allah on this happy day for His blessings and celebrate it with their loved ones.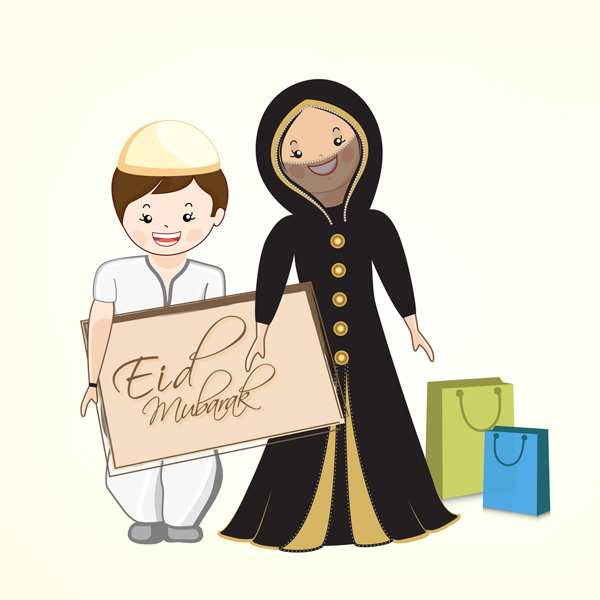 Eid is all about togetherness, brotherhood, sharing, love and being thankful to Allah. The true essence of Eid is lived when the happiness and joy of Eid are shared with others. While this can be done by serving the needy people in the society, it is also done by valuing the people present in your life. And what better way to tell them their importance than to remember them on this special festive occasion. And this website can help you in that regard by providing you extraordinary Eid Mubarak messages to send to the people that you want to remember on this happy occasion.
Happy Eid Mubarak Messages 2019
Muslims can send special customized Happy Eid Mubarak messages to their loved ones to wish them in a special way on this Holy occasion. People have been doing this for ages, in different forms. From the beginning with sending out customized handmade cards with Eid Mubarak messages on it to getting printed cards and now to sending your online cards or special text messages. Everybody has their own way of sending out their Eid wishes but what makes these cards or wishes more special are warm and sweet Eid Mubarak greetings messages that could be written on the cards or sent out as Eid Mubarak SMS. You can just look out for all the Happy Eid Mubarak messages in this page and pick up your favorite ones. From serious messages to funny messages, we have got it all to meet your needs for Eid wishes this Eid al-Fitr. We have messages for both your family and friends that you can use to send out best wishes. Happy Eid to all of you and may this Eid be blessed with happiness and joy for all of you.
Sending warm wishes
across the miles...
Just to let you know
how much you are missed on
EID Day
The moon has been sighted
The samoosas are ready
Here comes EID so just go steady
Lots of dua's is all i request
and just wanted to wish you all the BEST!!!
"Eid Mubarak"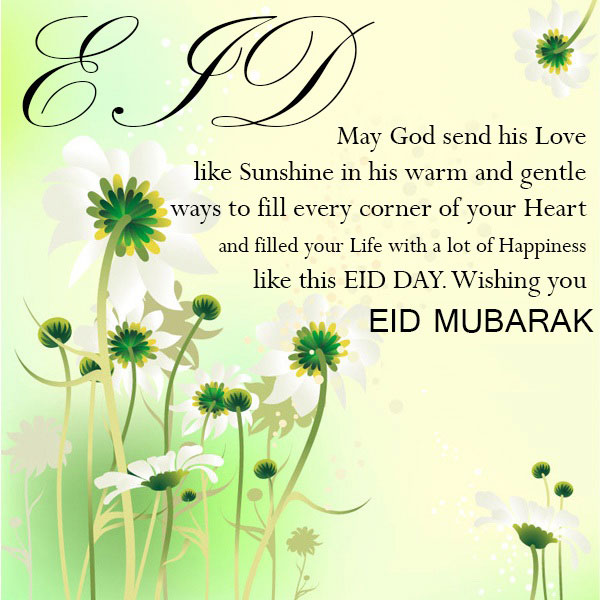 Look Outside
Its so pleasant!
Sun Smiling For you
Trees Dancing for you
Birds singing for you
Because I requested them All to wish You
**..*EID MUBARAK*..**
Wishing you all a very happy Eid,
And hoping that all the things you wish for will be yours through out the year.
When my arms can't reach people close to my heart, I always hug them with my prayers.
May Allah's peace be with you ..
Eid Mubarak
Sending you warm wishes on ""EID-UL-Fitr""
And wishing that, it brings your way ever joys and happiness.
Remember me in your prayers.
Lets learn the basic essence of sacrifice
and lets celebrate this Eid by sacrificing our egos.
Eid-ul-Adha Mubarak !
My Blessing, Congratulations and Good wishes.
I wish you the best of everything
for not only in EID-UL-Fitr but also
all the years ahead.
*EID MUBARAK*
On Eid ul-Fitr,
wish that Allah's blessings light up the path and lead to happiness, peace and success.
Happy Eid!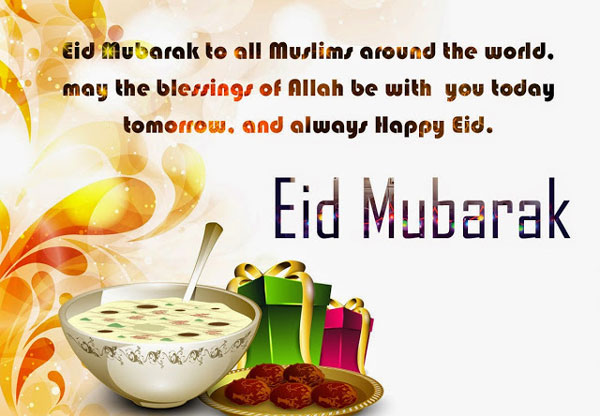 Do you know the Meaning of EID?
I think it means "ENJOY in DUNIYA!!"
So,n your life all moments bring EID for you….
Wish You…EID MUBARAK.
Eid ul adha is eid of sacrifice,
and commitment to Allahs orders,
May Allah bless us with the same in all circles of life,
and help all amongst us,
who are helpless,worried,
and waiting for his rehmat,
Ameen.
Eid Mubarak.
Eid is a wonderful day
To Pray
To Love
To Care
To Smile
To Relax
And to thank Allah for His benevolence!
Happy Eid ul-Adha!
No shadows to depress u,
Only joys to surround u,
Allah himself to bless u,
These r my wishes for u,
Today, tomorrow, and every day….
Eid Mubarak.
You are awarded a bouqet of good deeds,
a vase of blessing,
a parachut of glad itdings
4 completing da holy ramadan.
EID MUBARAK